Okay, okay, everyone is asking when I'm posting more pictures of my kitchen. Well I was waiting for my custom made bench and roman shades but the window coverings are delayed so you can thank the holidays for this glimpse.
The other day I found this image on Pinterest (above) so on the weekend I went out and picked up some garland for my kitchen window.
Here's what our kitchen looked like when we took possession. The owners took out the uppers because at the time I wasn't planning a full renovation but the upper cabinets definitely had to go. Check out the angled corners on the right hand doorway. Those I couldn't live with for even two seconds.
Here is the empty room, you can see what the first colour was before the kitchen was painted yellow.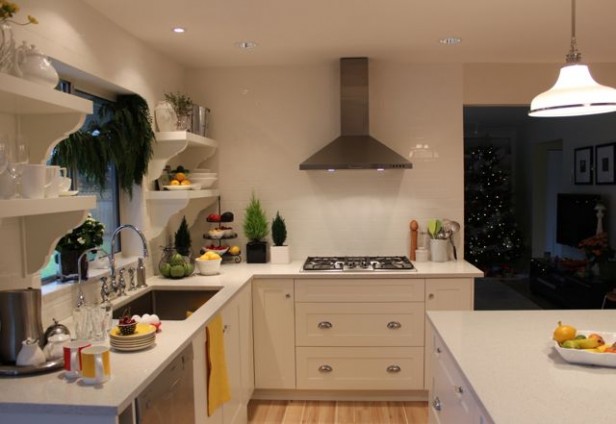 And here's the same angle with my 3″ shaker style cabinets by Quality Cabinets in North Vancouver and my counter to ceiling off-white subway tile from Olympia Tile.  The Caesarstone countertop was fabricated by Spectrum Stone.
I love the little trees, it feels so festive in here now!
 My espresso maker didn't make the cut in this image because I need a new one. I have my sugar, cream and the pot that I use to boil water on a tray. Anything on a tray always looks more organized and less like clutter. Love my upper shelving.
Photos by Maria Killam
Can you tell that the cherries are fake? Can't get cherries this time of year!
I finished decorating my house this weekend so this week I'll take more pictures to show you!
Have a wonderful week my lovelies! xo Maria
Related posts:
Quality Cabinets: Maria's New White Kitchen
Maria's Kitchen Banquette Design
SaveSave