PLEASE NOTE THE COMMENTS SECTION IS CLOSED ON THIS POST. If you need help choosing a roof colour, you can take advantage of my Exterior Colour Solutions.
About a year before I started writing this blog (in 2007), I was partners with another interior designer and we were specifying finishes for spec homes. One day we were sitting in a meeting with the builders who had hired us, discussing exterior colour and I calmly announced that "All [asphalt] roofs should be black".  All four of them looked at me, nodding in agreement.
One of the biggest reasons why I like a black roof so much is because I have rarely seen an asphalt brown roof that doesn't look patchy. In fact, I'm pretty convinced they don't make one anymore. If the first thing you notice is the colour of the roof when you drive up to your house, that's a good indication that it may not have been the best choice.
Obviously, exceptions to black would be in hot climates where it would attract too much heat or with a natural shake roof which obviously will never be black or when building a Mediterranean style home, for example.
And if you have too much roof, black would be too heavy. Read on for a good example of what I mean by that.
However, every house is different and don't assume your roof should be black just because you've read this post.
I'm saying often it's the best choice, but it's still not like a pair of jeans that go with everything.
Those of you who regularly read my blog will know by now that I approach choosing permanent elements like tile, countertops and backsplash from a classic perspective and exterior fixed elements are no exception.
Here are some good guidelines to keep in mind when choosing your roof. After all, your roof, depending on what material you're using will last much longer than a paint job.
1. For the average, traditional house, stay away from an overtly coloured roof. Here are some exceptions, notice they are very customized to the specific style of the home.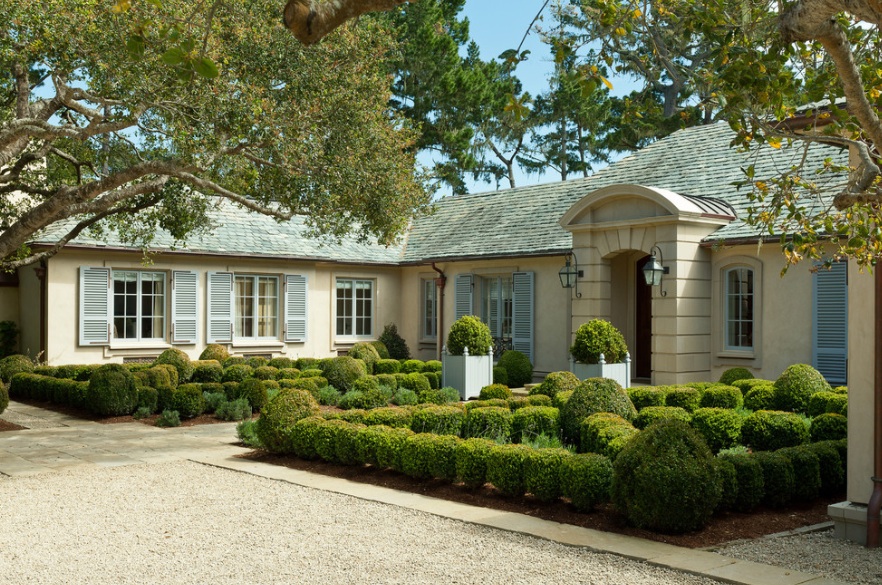 The blue green slate roof and coordinating shutters work perfectly with the look and feel of this French country exterior. If I lived in this house, I would be very happy with these colours forever.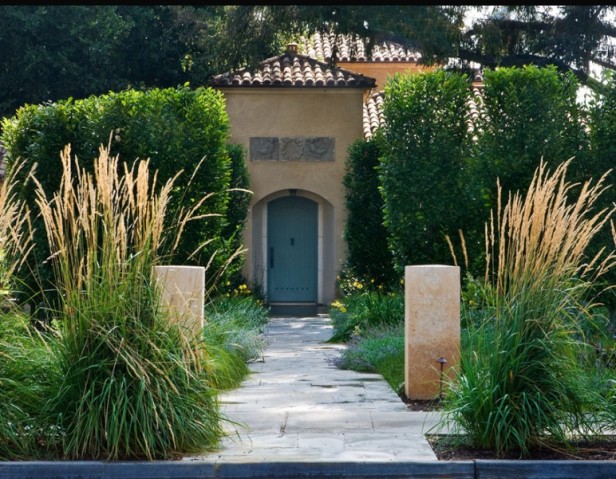 An orange clay tiled roof is usually on a spanish, Mediterranean or French Country style home. See this post for more on Mediterranean exterior colours.
The red roof with blue and white siding works with the nautical feel of this contemporary home.

This cottage style house with the river rock chimney and coordinating siding colour looks great with the green standing seam metal roof. The setting suits the house. The green roof doesn't yell 'Look at me, look at me', because everything looks totally pulled together including the bench in front of the window.
2. If the style of your home does not dictate choosing a colour choose a dark neutral. This is the one place where your roof colour should be neutral and not colourful. 
The siding on this house relates to the stone and the roof is just neutral in the background. Black/charcoal works on this house because the design is not roof heavy.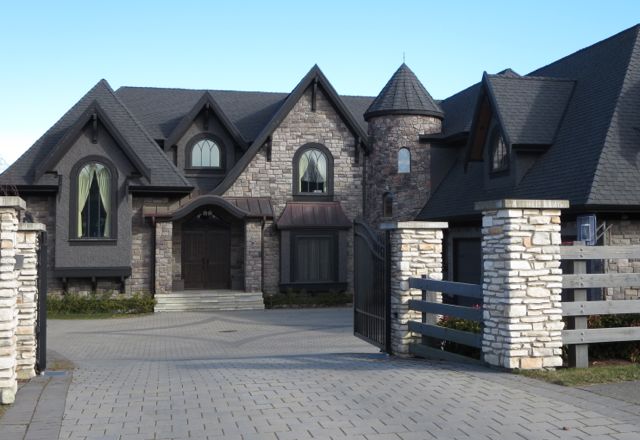 This house has so much roof that the black was a bad choice. Of course the heavy, blotchy look of the decorative stone and black trim combined, add to the bleak feel of this home.
3. If you have a stone or brick house that will never change colour, that's when your roof colour should be very carefully chosen.
The earthy gold stone on this house combined with the creamy beige brick dictate a very custom coloured roof but this roof is reddish pink and again looks patchy. I'm not a fan of combining stone or brick in general however I think this is a better combination than many I've seen.
Unfortunately, the roof colour no longer blends in with this colour scheme. A solid, grayed spanish style roof to go with the French Country style of this home would have been better.
One of my readers snapped this picture of a house being built in her neighbourhood. There are way too many high end homes that look like this. NOT classic at all with two completely unrelated colours of brick and/or stone chosen for the same house.
From what I understand from clients who I've consulted with, there are neighbourhoods where you don't have a choice. It's in the covenant that you must choose a combination. And if someone else has already chosen the best combination of brick and stone, you are left with the alternatives and there are not many.
This house is lovely. The stone walkway relates to the solid brown standing seam metal roof which is perfect with the creamy stone.
4. If you have brick or stone or both on your home, that's when the colour of your roof becomes the most important decision you will make regarding the exterior colours of your home. And that's when a custom colour will most likely be required over black or brown.
Both the roof and the stone on the house combined with the stacked stone columns create a very busy colour scheme. And the navy blue siding relates to nothing.
This patchy brown roof on this house only competes with the busy stone on this home and creates an overall dark looking combination.
The reason why brown roofs are the most popular is the same reason why there is more pink-beige carpet and sofas sold than any other colour.
Homeowners who are on their own choosing finishes mostly assume that they need to go as neutral as possible so they don't make a mistake.
What colour is the most neutral? Brown seems to be the answer in my experience.
Or light brown which is actually pink-beige because that's the colour you end up with. It looks warm and neutral on a small scale sample until it's installed all over your house, inside or outside.
5. A general guideline to follow when choosing an asphalt roof is to choose a darker colour than the body of your house. There's something grounded and solid about the look that I think really works and reads more classic. Unless of course your house is a very dark colour or as we saw above, there's more roof than siding, then a lighter roof is necessary. 
If you are incorporating stone which is generally much more patterned than brick on your exterior, stay away from patchy, blotchy asphalt in general.
Asphalt roof manufacturers no longer seem to sell solid coloured roofs because they have become more focused on trying to create the 'dimension and texture' naturally created by Mediterranean roof tiles, shake or slate roofs, however unless you have a very plain home, the added combination of a multi-coloured asphalt roof with other textures on your home can add up to BUSY.
A well planned and coordinated colour scheme will create a sense of harmony in the colours and building materials so choose carefully because everyone will notice.
If you need help choosing a roof colour, you can take advantage of my Exterior Colour Solutions
Related posts:
Can you Mix Brick and Stone on your Exterior?
The Best Exterior Trim Colours NOT Cloud White
Why Good People Choose Bad Colours for their Exterior
If you would like your home to fill you with happiness every time you walk up to the front door, become a client. On-line or In-person.
Download my eBook, How to Choose Paint Colours – It's All in the Undertones to get my complete step-by-step system on how to get colour to do what you want.
To make sure the undertones in your home are right, get some large samples!
If you would like to learn how to choose colour with confidence, become a True Colour Expert. 
SaveSave